NCAA Basketball Recruiting: Ranking the Top Instant-Impact Players in 2014 Class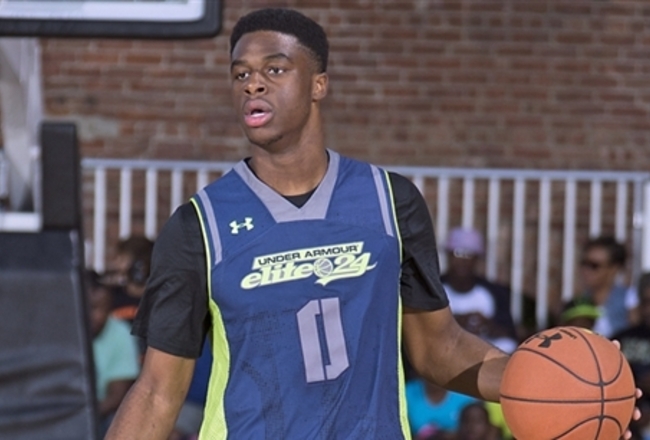 Kelly Kline / Under Armour
In honor of the recent announcement of the rosters for the 2014 McDonald's All-American Game, we're ranking the top 15 players in the 2014 recruiting class according to the amount of instant impact they should have in November.
The game's best and brightest future stars will be on display in Chicago on April 2, but who is most likely to shine once the 2014-15 season begins?
There's a lot of guesswork involved—particularly around whether current players will leave for the NBA or return for another season—but players were ranked based on the role they will be expected to play on their projected rosters.
Strengths and Areas for Improvement listed on the following slides are courtesy of ScoutHoops.com
Noteworthy Omissions
I have no doubt that these six players are fantastic athletes and will eventually become outstanding contributors to their respective teams. However, I'm concerned about whether they'll get the necessary playing time to make an immediate impact.
Tyus Jones, PG, Duke: If Quinn Cook forgoes his senior season to enter the NBA draft, then feel free to vault Jones into the top five on this list. However, if Cook stays (which he should), it's tough to see Jones getting more than 15 minutes per game next season.
Joel Berry, PG, North Carolina: Lather, rinse, repeat what was just said about Jones, but replace "Quinn Cook" with "Marcus Paige." It's possible the Tar Heels move Paige to shooting guard to pave the way for Berry, but we'll see.
Justise Winslow, SF, Duke: Similar story as Cook and Berry, but with different players involved. Jabari Parker will very likely leave for the NBA (or a Mormon mission), but if Rodney Hood stays for another year, that's a lot of minutes and shots for forwards that aren't being handed to Winslow.
Theo Pinson, SF, North Carolina: UNC signed two of the top three small forwards in this year's recruiting class. Justin Jackson is arguably better than Pinson, and thus more likely to win the starting job.
(This seems like a good time to point out that these omissions are in no way a reflection of my rooting interest for Duke or North Carolina. Both teams have top-five recruiting classes and a ton of 5-star recruits. Both teams were bound to have a few big names miss the cut. Heck, Grayson Allen even got snubbed from the snubs list, and he could be the next J.J. Redick.)
Karl Towns Jr, C, Kentucky: With Willie Cauley-Stein and Dakari Johnson already on Kentucky's roster and Trey Lyles on the way, Towns would have to be extra extra special in order to shine.
Rashad Vaughn, SG, Undecided: Until we know where he's going, it's too difficult to rank him. North Carolina is one of the seven teams left on his list, though, and the Tar Heels could really use a shooting guard.
15. Chris McCullough, Syracuse
Name: Chris McCullough
Committed to: Syracuse
Height and Position: 6'9" power forward
Strengths: Athleticism, Length, Runs the Floor
Areas for Improvement: Go-to-move, Strength, Values structure
Why He's Here
Syracuse will be losing C.J. Fair to graduation after this season, potentially opening up a forward spot in the starting lineup for the incoming McCullough. It would also be reasonable to assume that Tyler Ennis will go pro after this season, leaving a ton of scoring slack to be picked up by somebody.
McCullough strikes me as a Hakim Warrick type of player for Syracuse. He oozes athleticism and his versatile defending ability will fit swimmingly into that patented Boeheim zone.
If Ennis and his leadership are back for a sophomore season, McCullough could move further up the list.
14. Devin Robinson, Florida
Name: Devin Robinson
Committed to: Florida
Height and Position: 6'8" small forward
Strengths: Three-point range, Athleticism, Length
Areas for Improvement: Ball-handling, Strength
Why He's Here
Casey Prather, Will Yeguete and Patric Young—also known as Florida's entire starting frontcourt—will be graduating after this season. Even with Dorian Finney-Smith and Chris Walker presumably in the mix, there's plenty of room on the Gators depth chart for Robinson to thrive.
As far as comparisons to former Gators go, Robinson profiles as a potential Corey Brewer—if Florida can afford to play him at small forward. During Brewer's tenure in Gainesville, he had Al Horford and Joakim Noah to handle the big-man duties, allowing him to play more on the perimeter.
Robinson might not have the strength to endure an entire season in the post, but he will certainly be a focal point of a Gators offense attempting to replace four departing starters.
13. Daniel Hamilton, Connecticut
Name: Daniel Hamilton
Committed to: Connecticut
Height and Position: 6'7" small forward
Strengths: Length, Size for position, Speed/Quickness
Areas for Improvement: Basketball IQ, Strength
Why He's Here
One of the biggest knocks on Hamilton's game is that he tends to force the issue, taking ill-advised shots and occasionally hurting his team in the process.
So if you were worried about who would become Connecticut's go-to scorer with Shabazz Napier graduating, fret no longer.
He isn't quite bulky enough to be the next coming of Caron Butler or Rudy Gay, but it's possible he could be Richard Hamilton with less range. It's merely a coincidence that they share the same last name. Daniel Hamilton should develop into a terrific slasher, which would pair well with Ryan Boatright on the perimeter and Amida Brimah in the paint.
12. Stanley Johnson, Arizona
Name: Stanley Johnson
Committed to: Arizona
Height and Position: 6'6" small forward
Strengths: Competitiveness, Strength, Toughness
Areas for Improvement: Size for Position
Why He's Here
Johnson is highly ranked but gets docked a few points for committing to a school that might not have an opening for him.
Want to hear something scary? Jordin Mayes is the only senior on Arizona's entire undefeated roster right now—and he's not even playing five minutes per game. The Wildcats' primary seven-man rotation could be back next season, leaving little room for Johnson in the lineup.
Most believe that Aaron Gordon will bolt for the pros after one year, but even that wouldn't be enough to give Johnson a spot in the starting lineup, as Rondae Hollis-Jefferson would take Gordon's place.
If there's playing time to be had, he could give Arizona numbers similar to those that Hassan Adams put up in the early 2000s. Neither Adams nor Johnson is a prolific shooter, but both are freight trains capable of consistently finishing at the rim. At his best, Adams shot 54 percent from the field and averaged 17.2 points per game.
That might be the ground level of expectations for Johnson.
11. Isaiah Whitehead, Seton Hall
Name: Isaiah Whitehead
Committed to: Seton Hall
Height and Position: 6'4" shooting guard
Strengths: Aggressive Scorer, Ball-handling, Toughness
Areas for Improvement: Catch and Shoot
Why He's Here
No need to go back in time to find a good comparison for Whitehead, as he'll be taking over the role currently played by Seton Hall's senior guard/forward, Edwin Fuquan.
There's no doubt that Whitehead is a prolific scorer, but will he be able to thrive at a school like Seton Hall? MarShon Brooks averaged 24.6 points per game during his 2010-11 senior season at Providence, but hardly anyone even took notice because the Friars had a sub-.500 record.
Everyone else on this list is attending a school that will almost certainly open the 2014-15 season ranked in the Top 25, inevitably putting them in a better position for individual success.
10. D'Angelo Russell, Ohio State
Name: D'Angelo Russell
Committed to: Ohio State
Height and Position: 6'4" combo guard
Strengths: Ability to Create, Secondary Handler, Versatility
Areas for Improvement: Strength
Why He's Here
Russell has some massive shoes to fill.
After what feels like 17 years, Aaron Craft is finally graduating this season, as is Ohio State's starting shooting guard, Lenzelle Smith Jr.
Shannon Scott and Russell will likely make up an interesting starting backcourt for the 2014-15 season. Both guys are fully capable of playing both guard positions, with Russell likely to become the more frequent scorer of the two.
It's not difficult to envision Russell quickly filling the role William Buford played for this team at the turn of the last decade. Buford scored at least 500 points and had at least 100 assists in each of his final three seasons at Ohio State.
9. Cliff Alexander, Kansas
Name: Cliff Alexander
Committed to: Kansas
Height and Position: 6'9" power forward / center
Strengths: Rebounding, Strength, Toughness
Areas for Improvement: Multi-positional
Why He's Here
Alexander is unanimously in the top five of this year's recruiting class but sits just inside the top 10 in these rankings simply due to the lack of certainty over what Kansas will look like next season.
If the Jayhawks win the national championship and both Perry Ellis and Joel Embiid depart for the NBA, Alexander would average at least 30 minutes per game and potentially become the best freshman in the nation. He has a Thomas Robinson-type of build and motor, and he could easily become the go-to player on a young Kansas team.
Should those two big men stay for another season, though, it would be the same situation that Dakari Johnson is currently dealing with at Kentucky—fighting for minutes with a returning center.
In other news, if Kansas has Alexander, Ellis and Embiid on its roster next season, say a prayer for the rest of the Big 12.
8. Kevon Looney, UCLA
Name: Kevon Looney
Committed to: UCLA
Height and Position: 6'8" power forward
Strengths: Competitiveness, Rebounding, Versatility
Areas for Improvement: Explosiveness, Strength
Why He's Here
Looney is described by scouts as a relentless rebounder with range out to and beyond the three-point line.
Could he be Kevin Love 2.0?
The Wear twins are graduating and Tony Parker seems perfectly content being brutally inconsistent, so there's plenty of room on the Bruins' frontcourt depth chart for both Looney and incoming center Thomas Welsh to shine.
7. James Blackmon Jr., Indiana
Name: James Blackmon Jr.
Committed to: Indiana
Height and Position: 6'3" shooting guard
Strengths: Three-point Range, Catch and Shoot, Confidence
Areas for Improvement: Ability to Create, Size for Position
Why He's Here
The Hoosiers desperately need a true shooting guard. Yogi Ferrell is the only player on the team averaging better than one made three-pointer per game, and that's really not his game. Last season, Ferrell had 6.4 assists for every made three-pointer. This year, that ratio is down to just 1.6.
Depending on whom you ask, Blackmon is (one of) the top shooting guard(s) in this year's recruiting class.
It's been some time since Indiana had a really prolific shooter (sorry, Jordan Hulls), but Blackmon could play the role that A.J. Guyton played in scoring 2,100 points for Indiana during the latter half of the '90s.
6. Trey Lyles, Kentucky
Name: Trey Lyles
Committed to: Kentucky
Height and Position: 6'9" power forward
Strengths: Big-Time Scorer, Counter Moves, Mid-Range Game
Areas for Improvement: Explosiveness
Why He's Here
I know this is going to come as a major surprise, but Kentucky has one of the top recruiting classes in the country, headlined by Lyles.
Assuming Julius Randle leaves for the NBA, it shouldn't be difficult for Kentucky to make the transition to having Lyles as the starting power forward. Randle is a big dude at 6'9", 250 pounds, but Lyles is just as big and arguably more coordinated than Randle.
If he didn't have to share the Kentucky spotlight and score sheet with half a dozen other 5-star recruits—which includes those already on the team that will inevitably return for another season—he could be the top dog on this list.
5. Justin Jackson, North Carolina
Name: Justin Jackson
Committed to: North Carolina
Height and Position: 6'7" small forward
Strengths: Basketball IQ, Mid-Range Game, Size for Position
Areas for Improvement: Penetration, Strength
Why He's Here
If there's any blue-blood program in the country in desperate need of a small forward with some three-point range, it's the Tar Heels.
He doesn't have anywhere near the athleticism of Vince Carter—as very few human beings do—but Jackson should be able to deliver the kind of raw numbers (15 points and five rebounds per game) that Carter delivered in his best collegiate season.
Perhaps the only way Jackson fails to become one of the five best freshman next season is if he loses out on the starting job to North Carolina's other highly touted small forward recruit, Theo Pinson.
4. Kelly Oubre, Kansas
Name: Kelly Oubre
Committed to: Kansas
Height and Position: 6'7" small forward
Strengths: Three-point Range, Athleticism, Attack Mode
Areas for Improvement: Ball-handling, Shooting off Dribble
Why He's Here
Perhaps we overpenalized Cliff Alexander for the unlikely possibility that Joel Embiid comes back for another season, but hopefully seeing Oubre this high on the list will make it up to Jayhawks fans.
After all, there's no question that Andrew Wiggins will be leaving after this season, so the small forward position is Oubre's for the taking.
The scary thing is that Kansas might not even notice a difference.
Oubre is a sensational scorer with a ton of range. He has been shooting up the scouting rankings as of late, and it wouldn't be completely shocking if he started out the 2014-15 season similar to the way Jabari Parker started the 2013-14 season.
3. Myles Turner, Undecided
Name: Myles Turner
Committed to: Undecided
Height and Position: 7'0" center
Strengths: Length, Shot-Blocker, Upside/Potential
Areas for Improvement: Strength
Why He's Here
Turner is the only player on this list yet to commit to a school, but at this stage in the game, let's go ahead and assume he isn't going to go somewhere that intends to play him sparingly.
Back in mid-November we decided that Kansas was the most likely landing spot for Turner, but I'm not so sure that's the case anymore. If forced to make a decision at gunpoint, I'd say Oklahoma State lands the big man, but it's still anyone's guess.
Regardless of where he ends up, he will be a monster on both ends of the court.
2. Jahlil Okafor, Duke
Name: Jahlil Okafor
Committed to: Duke
Height and Position: 7'0" center
Strengths: Post Play, Rebounding, Strength
Areas for Improvement: Explosiveness
Why He's Here
With all due respect to Marshall Plumlee, imagine how great Duke would be right now if it had a real center.
It's tough to say who will stay or go among Jabari Parker, Rodney Hood, Quinn Cook and Rasheed Sulaimon, which is why Duke's other top recruits failed to make this list. However, Duke has a great big hole in the post for a great big man like Okafor to fill.
You're probably wondering why in the world Okafor is ranked second on this list when he's the top-ranked recruit on virtually every scouting ranking on the Internet.
My rationale is simply that sometimes big men need some grooming.
Two years ago, both Kaleb Tarczewski and Steven Adams were ranked in the top six of the ESPN 100, and neither particularly flourished in his freshman season. The year before that, Andre Drummond was the No. 2 overall recruit, and he didn't really get going until January.
In terms of instant impact, centers just tend to be a little more hit or miss than guards. It's not a knock on Okafor so much as it is on the 7-footers who preceded him.
1. Emmanuel Mudiay, Southern Methodist
Name: Emmanuel Mudiay
Committed to: Southern Methodist
Height and Position: 6'4" point guard
Strengths: Athleticism, Attack Mode, Upside/Potential
Areas for Improvement: Three-Point Range, Catch and Shoot
Why He's Here
If you were one of the thousands (millions?) who was furious with LeBron James for choosing to play at Miami with Dwyane Wade and Chris Bosh rather than going somewhere else to win championships by himself, then Emmanuel Mudiay is the man for you.
As the top-ranked point guard in this year's class, Mudiay could have gone to virtually any school in the entire country, yet he picked Southern Methodist.
The Mustangs have not appeared in the AP Poll since March 5, 1985. With Mudiay at the helm and Nic Moore and Markus Kennedy presumably coming back for another season, they will break that nearly 30-year dry spell next season.
And—oh by the way—SMU is one of the eight schools that Myles Turner is still considering. So that could happen.
Not only is SMU getting better, but its conference is about to get much worse. Louisville leaves for the ACC this summer—as does Rutgers for the Big Ten—and in their place come East Carolina, Tulane and Tulsa from Conference USA.
Mudiay might be the best freshman in the country and will almost certainly be playing against the weakest schedule among the players on this list.
Sounds like a recipe for success to me.
Kerry Miller covers college basketball for Bleacher Report. You can follow him on Twitter @kerrancejames.
Keep Reading