AFC South Division Preview
Jared Wickerham/Getty Images
The AFC South was one of the weakest divisions in the NFL last season. The Houston Texans were the class of the division for the second straight season, posting a 12-4 record and edging out the Indianapolis Colts for the division title.
Speaking of the Colts, they were the most surprising team in 2012, going from 2-14 to 11-5 in just a season. Had Andrew Luck and Chuck Pagano not reinvigorated Indy, this could have been the worst division in football.
Which leads to the bottom half of the AFC South. The Tennessee Titans were a mediocre squad in 2012, going 6-10, while the Jacksonville Jaguars were one of the worst teams in the league and won only two games.
Can the Texans make it a three-peat in the division? Can Luck and the Colts build on last season's success without Bruce Arians? Does Jake Locker take the next step toward being a respectable starting quarterback? Who will be behind center in Jacksonville?
All of these questions and more will be answered in this AFC South preview.
Houston Texans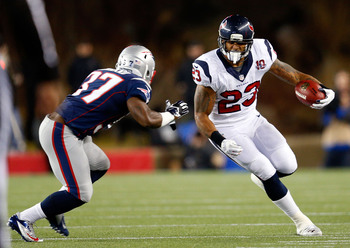 Jim Rogash/Getty Images
The Texans were one of the AFC's best teams in 2012, winning the AFC South for the second consecutive year, but were bounced in the divisional round of the playoffs by the New England Patriots.
General manager Rick Smith bolstered his lineup on both sides of the ball. Houston's first big offseason move was the signing of safety Ed Reed in late March. Smith also drafted DeAndre Hopkins in the first round to give Matt Schaub another weapon. The Texans also drafted strong safety D.J. Swearinger in the second round; he could learn a lot from Reed.
Offense
Houston's offense is one of the most balanced attacks in the league, ranking 11th in passing yards and eighth in rushing yards. Arian Foster had another spectacular season, running for over 1,400 yards and 15 scores.
Matt Schaub had a decent year, throwing for just over 4,000 yards with 22 touchdowns and 12 picks. Schaub's obvious top target is Andre Johnson, who was able to stay healthy throughout the entire season.
A healthy Johnson put up 112 receptions and 1,598 yards, which ranked fourth and second among receivers, respectively. The only downside? Johnson caught just four touchdown passes because of Houston's reliance on the run inside the red zone.
Although Kubiak's run-first offense has worked exceptionally well, it seems to prevent Schaub from having a prolific year in terms of his individual stats. Since his first year with Houston in 2007, Schaub's highest single-season touchdown total has been 29, in 2009.
Schaub is a good fit, given the system he is playing in. He does just enough to win but he's proven to be more than merely a game manager. One reason why Kubiak may choose to air it out a bit more in 2013 is the presence of Hopkins, who could give Houston a reliable No. 2 option on the outside.
Houston's offense will be one of the best next year, but it is not one that will always prevail in a shootout. The fact is, Houston wants to run the ball and control the clock, but how much do you trust Schaub to light up the scoreboard if necessary?
Defense
Here's the reason why Houston fans don't need to rely on Schaub's arm too often: The Texans defense is one of the most ferocious units in the NFL. Led by sackmaster J.J. Watt, the Texans ranked seventh against the run and 16th versus the pass.
The production was spread across the defense last year in Houston, with four Texans recording at least 77 tackles and four players snagging at least two interceptions.
Wade Phillips' front seven is formidable and will be strengthened by the return of linebacker Brian Cushing, who missed most of last season with a torn ACL.
Kareem Jackson and Jonathan Joseph combined for six interceptions in 2012, but the play out of the safety position held back the secondary. Enter Ed Reed, who has something to prove.
Although the ballhawking safety is past his prime, he fills a large void at free safety and could work nicely with Phillips' schemes. One of the best generators of turnovers coming to a team that was already third in the AFC in takeaways? What's not to love?
This defense will be even better in 2013, especially if Cushing can get back to his old self. Whitney Mercilus should improve after a full season at outside linebacker and Earl Mitchell and Antonio Smith are unsung role players.
Houston could have one of the top three defensive units in the league. Did I mention Watt's going into only his third season in the pros? If Houston's defense can minimize the big plays, they will be a tough team to score on.
Season Outlook
Houston won't have many problems in 2013. The Texans are strong on both sides of the ball and still have some room to get better.
I'm not holding my breath waiting for Schaub to throw 35 touchdowns. But does he really have to? With Foster in the backfield, Schaub is the second fiddle, but that's a fine role for him.
The key will be Hopkins, who could provide an option the Texans haven't had since becoming a playoff team in 2011. Hopkins emerging as a threat means less defensive attention paid to Johnson and the rest will take care of itself.
Owen Daniels can't be ignored either. He is one of the more underrated tight ends in the league and is a nice target in the red zone, provided Schaub is given the chance to throw.
Houston's defense will be even better than last season. Watt and Cushing are studs, Joseph and Jackson are two of the better corners in the game and Danieal Manning and Reed will be vultures in the turnover department.
Houston is blessed with the sixth easiest schedule in the league this season, but a four-game stretch against Baltimore, Seattle, San Francisco and St. Louis will be a nice test to see how much the team has improved.
There's no question the Texans are a playoff team, but things will get more uncertain once the postseason comes around.
Indianapolis Colts
Jamie Squire/Getty Images
A rookie quarterback and a head coach battling cancer during the season usually spells disaster, but the Colts stunned the league 2012, going from 2-14 to 11-5 in a matter of one year.
Andrew Luck revitalized the franchise in his rookie season and made fans forget about Peyton Manning's departure.
The Colts were comeback kings last season, winning six games thanks to late rallies. The magic ran out in the playoffs, though, as the Colts were knocked out by the Baltimore Ravens.
Indianapolis had a busy offseason, beginning with offensive coordinator and interim head coach Bruce Arians departing to become the head coach of the Arizona Cardinals. Arians led the team after head coach Chuck Pagano left to receive cancer treatment. The Colts hired Andrew Luck's old coordinator at Stanford, Pep Hamilton, for the same job in Indianapolis.
General manager Ryan Grigson had money to play with this offseason, and he definitely spent it. The Colts addressed major flaws with the signings of offensive tackle Gosder Cherilus and safety LaRon Landry. The Colts also bolstered their depth with the acquisitions of Ahmad Bradshaw, Darrius Heyward-Bey, Erik Walden, Ricky Jean-Francois and Matt Hasselbeck.
In the draft, Indy selected defensive end Bjoern Werner to replace Dwight Freeney, who bolted out of Indianapolis to join the San Diego Chargers (no pun intended).
Offense
The Colts looked like a Manning-led offense even though he was miles away in Denver. Luck was fifth in the NFL with 627 passing attempts, and the Colts ranked seventh overall through the air. The running game was lackluster, with the platoon of Vick Ballard and Donald Brown finishing 22nd in the league in yardage.
Luck was exceptional for a rookie, but Arians' air-it-out offense hurt him at times. He tossed 18 interceptions, with numerous close calls, to go with his 4,376 yards and 23 touchdowns.
Reggie Wayne resurrected his career in 2012, catching 106 balls for 1,355 yards and five scores. T.Y. Hilton became Luck's deep threat and a solid slot receiver by averaging 17.2 yards per reception.
Hamilton's West Coast style could limit how many times Luck dials up the deep ball, but it also should lead to better decision-making and fewer turnovers for the second-year QB.
The biggest question with the Colts offense is how the running game will perform. Ballard and Brown both averaged only 3.9 yards per carry, but the addition of Bradshaw should provide a little boost to the offense. Bradshaw was 16th in the league with 1,015 rushing yards in 14 games with the New York Giants.
Defense
Indianapolis won in spite of its defense, which ranked 21st against the run and 29th against the pass. The Colts didn't help themselves out much either, recording only 15 turnovers last season, which was the second-lowest total in the AFC.
The addition of Landry to the secondary will help slightly, but he isn't a player who is known for his coverage skills. Robert Mathis will be in his second season at outside linebacker and a lot of weight will be put on his shoulders to lead a pass rush that, despite Freeney's absence for most last year, still managed 41 sacks, ninth best in the NFL.
Jerrell Freeman and Antoine Bethea both recorded over 100 total tackles, and a healthy Pat Angerer should be a boost at linebacker. The defensive line could have a new look with Ricky Jean-Francois and possibly Werner joining the rotation.
Vontae Davis will need to play better at cornerback and free-agent CB Greg Toler will be given an opportunity to shine opposite of him. Walden should be a nice upgrade at outside linebacker as well.
The Colts could have up to five new starters on defense thanks to free agency. How quickly this unit meshes will determine how much it will improve. The good news is, the numbers can't get much worse. Indianapolis will be better defensively, but nothing to brag about.
Season Outlook
The Colts will be an intriguing team to keep an eye on in 2013. The offense returns most of its firepower and adds another dimension to the running game in Bradshaw.
Expect Luck to show progress in the turnover department, but Hamilton's playbook could limit his yardage. Wayne still has plenty left in the tank and Hilton is a budding star.
The tight end position remains a question, as Dwayne Allen and Coby Fleener are battling injuries, and the offensive line will need to improve its run-blocking.
Indy's defense is improved, but still nothing special. Jean-Francois, Walden and Landry should bring some help and experience, but the keys could be Toler and Werner.
One thing in Indy's favor is the schedule: The Colts play only six games against playoff teams from a year ago.
Indianapolis can't rely on six comebacks next season. Had two or three of those games gone the other way, the Colts would have missed the playoffs. Expect Indianapolis to be a good team, but a playoff berth isn't a certainty.
Jacksonville Jaguars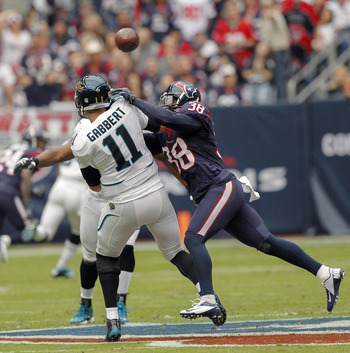 Bob Levey/Getty Images
The 2012 season for the Jacksonville Jaguars can be defined by one word: struggle. The Jags lacked talent on both sides of the ball and a 2-14 campaign was the result.
Head coach Mike Mularkey was immediately fired after the disastrous year and was replaced by former Seahawks defensive coordinator Gus Bradley who built Seattle's defense into a powerhouse.
Despite all of his team's glaring needs, general manager Dave Caldwell gutted his defense, releasing Dawan Landry, Aaron Ross and Derek Cox. He replaced some of that departing talent when he signed linebacker Geno Hayes and cornerback Alan Ball.
Bradley also recruited one of his former players, Marcus Trufant, to join him in Florida.
Jacksonville's pitiful season was rewarded with the second overall pick in the draft, which they used to take offensive tackle Luke Joeckel. The Jaguars also selected safety Johnathan Cyprien with the first pick in Round 2 and speedsters Ace Sanders and Denard Robinson in the later rounds.
Offense
Where do you start with this unit? The Jaguars ranked 21st in passing, 30th in rushing and scored only 15.9 points per game.
After holding out to begin the year, Maurice Jones-Drew missed the second half of the season because of a foot fracture. The saddest part? He still led the team in rushing by 131 yards. As much as that says about Rashad Jennings and Jacksonville's offensive line, the real message is that MJD is worth the money. Jones-Drew will be in a contract year this season, which could bring about some big numbers.
But even if Jones-Drew rushes for 2,000 yards, it may not be enough to overcome the quarterback play. Controversy is an understatement when discussing the Jaguars' quarterback situation. Chad Henne led the team in yards and touchdowns, while Blaine Gabbert threw for a higher completion percentage and fewer interceptions.
The lone bright spot of this miserable unit was Cecil Shorts, who emerged as a top receiver last season. Shorts caught 55 passes for 979 yards and seven scores in 2012 and is poised for a big 2013, if his quarterback can get him the ball.
Jacksonville also has Justin Blackmon, who caught nine more passes than Shorts last year. Blackmon will be suspended for the first four games of the season but, along with Shorts, could give Jacksonville a respectable duo on the outside—provided he can keep his head straight.
Defense
If there was anything worse than Jacksonville's offense, it was its defense. The Jags were 22nd against the run and 30th against the pass last season, which resulted in an ugly 27.8 points allowed per game.
Paul Posluszny and Russell Allen did have very nice seasons, recording 139 and 131 tackles respectively.
The pass defense certainly wasn't helped by a pass rush that recorded an NFL-worst 20 sacks. Tyson Alualu led the team with 3.5. Having Jason Babin for the entire season should benefit the rush, but Babin had only seven sacks in 2012 (for both Philadelphia Eagles and the Jags combined) after totaling 18 sacks for the Eagles in 2011.
Jacksonville could be starting three new players, including two rookies, in the secondary. Ball will likely start at cornerback alongside Trufant or third-round draft pick Dwayne Gratz. Cyprien could replace Landry at strong safety, with free safety Dwight Lowery as the only returning starter.
Trufant will be a great mentor for these young DBs and should see significant playing time as a starter or the third cornerback.
Bradley will certainly have his work cut out with this unit, but he does have some young pieces to build around. If he can get anything out of Cyprien and Gratz, the Jaguars secondary will be improved.
The defensive line will be the glaring weak spot of this group, and until that is fixed, Jacksonville will not be very formidable to opposing offenses.
Season Outlook
Jacksonville has too many issues on both sides of the ball to be considered a playoff contender. The Gabbert and Henne QB battle may never bring about a true starter, and although MJD is returning, he will have to produce with a bad line blocking for him.
Shorts and Blackmon have great potential as starting wide receivers, but the issues behind center will harm both of them.
The Jaguars are still a mess on offense, but Caldwell brought in the right guy to clean it up. Bradley won't transform this unit into a respectable defense in one season, but maybe in a couple of years, with the right players, Bradley could turn the Jaguars into a squad reminiscent of the Seahawks team he left behind.
But for 2013, the Jaguars won't be much better than last season. Last place in the division is very possible, which could put Jadeveon Clowney in a Jaguar uniform come April.
Tennessee Titans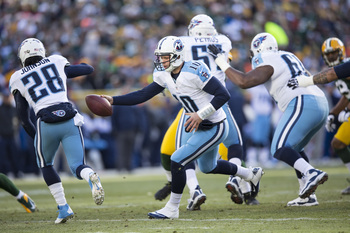 Tom Lynn/Getty Images
The Tennessee Titans were mediocre in 2012, posting a 6-10 season. Jake Locker became the starting quarterback but had his share of struggles with injuries and consistency. After a brutal start to the season, Chris Johnson woke up and managed to rush for over 1,200 yards.
The Titans made some minor moves during the offseason, bringing in Ryan Fitzpatrick to back up Locker and Shonn Greene to spell Johnson. They also acquired guard Andy Levitre and Delanie Walker, who has an excellent shot at the starting tight end job.
Defensively, the Titans had an extreme makeover, bringing in a ton of depth guys like linemen Ropati Pitoitua, Sammie Lee Hill, linebacker Greg Jones, and safeties George Wilson and Bernard Pollard. Of those players, Pollard is likely to make the biggest impact on the field.
The Titans used the 10th overall pick in the draft on offensive guard Chance Warmack and drafted another wide receiver, Justin Hunter, in the second round.
Offense
Tennessee's offense was below-average last season, ranking 22nd in passing yards, 21st in rushing yards while scoring only 20.6 points per game.
Locker was disappointing in his second season in Tennessee and had a hard time staying on the field. Locker threw for 2,176 yards, 10 touchdowns and 11 interceptions, numbers which don't meet the hype associated with the eighth overall pick in 2011.
Johnson has become more of a home-run hitter as his career has gone on, which is why the Titans brought in Shonn Greene to eat some of his carries. With the New York Jets, Greene rushed for 1,063 yards and eight scores in 2012.
The wide receiver group is a crowded one, with Nate Washington, Kenny Britt, Kendall Wright, Damian Williams and now Hunter fighting for playing time. When he is healthy and out of trouble, Britt is Tennessee's most talented receiver, but he has played in only 17 games over the last two seasons combined.
It's tough to say who is to blame for Tennessee's passing game woes, but my vote is Locker, simply because of his rocky play and injury issues. Locker has plenty of upside, but 2013 could be a do-or-die year for him.
Defense
The Titans have some nice pieces on defense, but the puzzle is still incomplete. Akeem Ayers and Zach Brown both recorded over 90 tackles in 2012, and Tennessee had one of the top pass rushes in the league (39 sacks).
Jason McCourty and Alterraun Verner are two developing cornerbacks who combined for 24 passes defensed and six interceptions last year. Michael Griffin is a good free safety who will benefit from having Pollard next to him.
Kamerion Wimbley and Derrick Morgan combined for 12.5 sacks last season and are two solid defensive ends. The weak spot on the Titans defense is in the middle. Jurrell Casey was a decent defensive tackle on the right side, but Sammie Lee Hill must fill the void on the left side to solidify the line.
The other major question is at middle linebacker. Colin McCarthy will likely start Week 1, but former Colt Moise Fokou will be breathing down his neck for the starting job. If McCarthy and Hill can be productive, Tennessee could have a nasty front seven.
Tennessee's defense has a lot of talented players, but it underachieved in 2012. If third-year coach Mike Munchak and his staff can coach up this unit, it could have a breakout season in 2013.
Season Outlook
The Titans are a mixed bag. There is a lot to like, especially on defense, but a lot to cringe at, specifically on offense.
Locker will be under the microscope in his third, and most pivotal, season as a Titan. Although Chris Johnson is more of a home-run threat than anything else, he still has the speed to rush for 1,500 yards. Greene will likely take away a bulk of Johnson's red-zone carries, but this combo could do very well if the offensive line improves.
There is plenty of potential among the wide receivers, but none of them have yet had that breakout season. Maybe Hunter is the guy, but it's one of the tougher corps to figure out in the entire league.
I really like Tennesse's defense this year. Ayers and Brown are emerging stars, while McCourty, Verner, Pollard, Morgan and Wimbley are great pieces as well. McCarthy and Hill will need to plug up the middle, which is a glaring weakness on the front seven.
Tennessee just isn't there yet. The potential is piling up at the quarterback and the wide receiver position, but whether it is fulfilled is another question. Right now, I don't see Jake Locker as the guy, which means the Titans probably won't be in the playoff hunt.
AFC South Prediction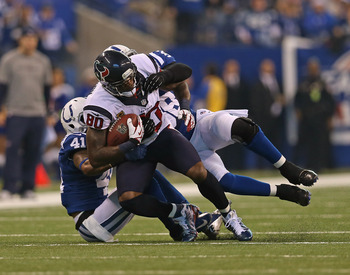 Jonathan Daniel/Getty Images
1. Houston Texans 11-5
2. Indianapolis Colts 9-7
3. Tennessee Titans 7-9
4. Jacksonville Jaguars 3-13
Yes, the AFC South will finish in the exact same order as last season, but other than the top two teams, there isn't a lot of parity amongst this group.
Houston is still the team to beat because of its balance on offense. Until someone figures out how to shutdown Arian Foster, Houston will be a contender. Matt Schaub will have another good season, and if DeAndre Hopkins can meet his expectations the Texans may throw the ball more than Gary Kubiak usually would.
Houston still has a great defense, one got even better with the addition of Ed Reed. A similar turnover differential to last year is hard to imagine, but the same can be said about the number of big plays this unit allowed last year.
Indianapolis was outscored by 30 points in 2012 and relied on six come-from-behind wins to catapult them into the playoffs. That won't happen again.
Indianapolis also had a great offensive style for keeping up with the amount of points the defense allowed. Bruce Arians and his high-powered offense are gone, which means if the Colts get behind early, it may be harder for Luck and the offense to rally.
I expect the Colts to take a step back this season.
I really want to project the Titans to do better, really I do. But I just don't see Locker being the answer for this team. It's a shame, because Tennessee could have one of the best defenses in the NFL this year.
Jacksonville has a new coach and a new general manager, but it still has Blaine Gabbert and/or Chad Henne behind center. Maurice Jones-Drew should be back and healthy but it doesn't matter when teams load up eight in the box and force the quarterback to beat them.
Houston will win its third straight division title, with Indianapolis finishing close behind, while the bottom two teams will have to take yet another year to figure out their quarterback situations.
Keep Reading