Jim Delany's Bizarre Big Ten Media Days Speech Shows State of Confusion in CFB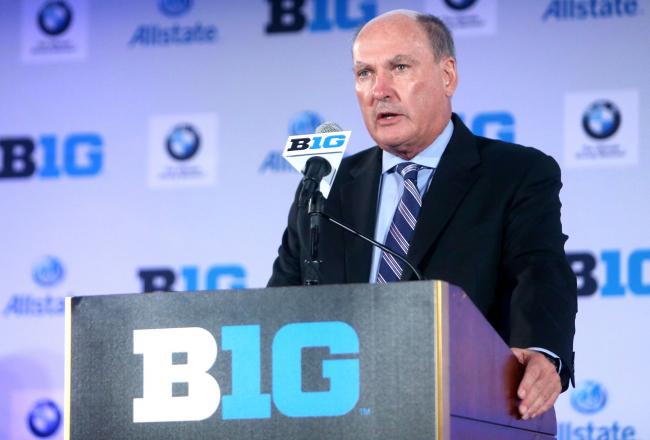 Chicago — Of all the fascinating tidbits commissioner Jim Delany dropped at Day 1 of Big Ten Media Days, the moment that will probably be remembered best actually came from an unexpected source.
"Jim, I'm so confused I don't know where to start," a media member said when he was finally handed the microphone after the commissioner's 23-minute, opening statement that was reminiscent of filibuster speeches from the U.S. Senate.
The question (and really, response is more appropriate) drew awkward laughter from a crowd likely sharing a similar sentiment. Even Delany cracked a small smile at his own expense.
But this unusual, unintentional break in the action also outlined the daunting work ahead. There is a lot needed to be done to fix college football, and even the brightest, most powerful football minds are struggling to come up with the appropriate next steps.
What started with Delany's assessment of the Big Ten, and how the additions of Rutgers and Maryland will impact the potential reach of the conference, eventually turned to some of the more pressing issues hampering the game.
By this point, however, much of the Chicago Hilton ballroom looked like it had just sat through a grueling session of Physics 101. Delany's delivery was strange and deliberate. The opening didn't exactly grab the attention of the room, and he didn't provide the same "thump" as the other conference commissioners.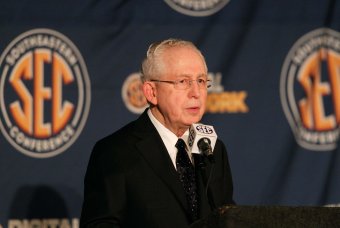 SEC Commissioner Mike Slive
Marvin Gentry-USA TODAY Sports
Unlike SEC commissioner Mike Slive and the Big 12's Bob Bowlsby, who spent a good portion of their podium time at their respective media days hammering away at the NCAA, Delany's tone was much more reserved. He didn't call for an immediate overhaul of the whole system, instead questioning if such drastic steps are necessary.
"To me, the NCAA structure matters some," Delany said. "What matters more than the structure is what that structure might produce in the future."
This structure, of course, starts at the top with NCAA president Mark Emmert. As the masses align with torches and pitchforks demanding a shakeup, Delany again provided insight unique from other conference leaders. In fact, he went to bat for Emmert.
"There's been a lot said about Mark Emmert," Delany noted. "My view is Mark has done some good things and Mark has made some mistakes. Let me tell you this: Running the NCAA is real challenging."
Wedged between the talk of NCAA reform, Delany touched on player stipends, the idea of a new division in college football to include larger, more profitable schools (Division 4) and also the Ed O'Bannon lawsuit.

The topic of player stipends certainly will be pushed into the forefront in the coming months, while the call for "Division 4" is also gaining steam. Meanwhile, as college football attempts to sort out its issues, the O'Bannon lawsuit could provide the most dramatic shakeup yet.
When asked about the possibility of larger conferences joining together, Delany again played the role of contrarian, saying that such a group is not close to imminent.
Delany says that "Division 4" is not really being talked about, at least not in those words.

— Matt Brown (@MattLGHL) July 24, 2013
Overall, his time at the podium was not the game-changing event many had anticipated. It didn't provide juicy soundbites, but through the strangeness, it did have substance, especially when the questions finally came.
Important points were discussed—modifications that could potentially help fix a broken system—but it's clear the conference commissioners have tremendous work in front of them. Not only that, but it's unclear if the varying personalities tasked with fixing the sport can actually work together.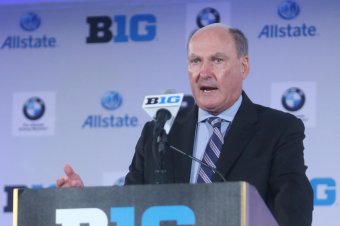 Big Ten Commissioner Jim Delany
Jerry Lai-USA TODAY Sports
Nothing, of course, can be solved in a half-hour at a conference's media day. With so many questions and concerns, the allocated time for discussion creates a frantic forum to knock out the checklist of important topics.
This checklist was certainly on display in Chicago, with all the issues front and center, and it is growing in length.
When Delany attempted to clear things up for the confused media member, quickly summarizing his points to the man holding a microphone and the entire room looking for clarity, he concluded with the following.
"I don't know how confused you are or if I've helped you..."
Perhaps we'll know this answer in time.
Adam Kramer is the lead college football writer for Bleacher Report. Unless otherwise noted, all quotes were obtained firsthand.
This article is
What is the duplicate article?
Why is this article offensive?
Where is this article plagiarized from?
Why is this article poorly edited?