10 Most Underrated Defensive Recruits in Class of 2014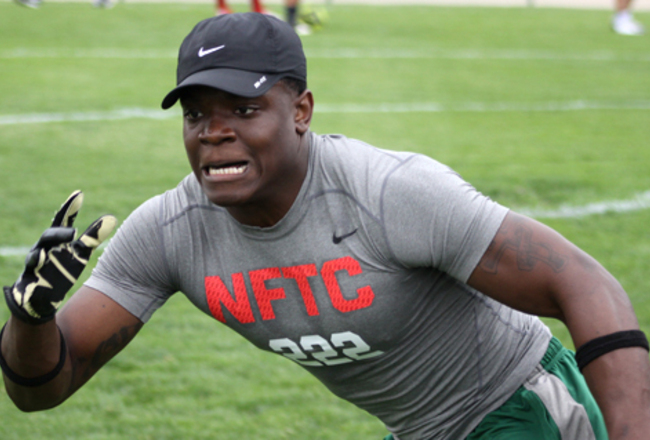 247Sports

Building a solid defense is crucial in college football. Offenses have become more potent and sophisticated, so defenses must combat them with athletic players who excel at their roles. The past several recruiting cycles have had excellent defensive prospects, and the 2014 class continues that trend.
However, while many tend to focus on defensive end Lorenzo Carter, cornerback Tony Brown and linebacker Raekwon McMillan, other defensive players have been pushed down the board. Examining the defensive recruits in the 2014 class, several great players are vastly underrated.
A defensive lineman headed to a Big Ten school has the versatility that warrants a higher ranking. A linebacker committed to an SEC program deserves more attention, and a pair of safeties are better than many believe.
Player evaluations are based on review of tape at Scout.com, Rivals, 247Sports and ESPNU.

Jordan Hoiem, OLB
Jordan Hoiem is a 6'4", 207-pound linebacker from Hawaii. He is ranked No. 486 in the 247Sports composite rankings, which is too low given his ability.
Hoiem is an athletic linebacker who can play all three downs due to his ability to factor in coverage. He has no issues buzzing back, locating a receiver, keeping his head on a swivel and inserting himself in a passing lane.
Hoiem also flashes the ability to play man coverage on tight ends and running backs releasing out of the backfield. His athleticism, agility and coverage skills will suit him well at Oregon.
C.J. Reavis, S
Being labeled a "'tweener" is considered a negative thing too often. Sometimes 'tweeners just need to be given the chance to play one position on a permanent basis.
C.J. Reavis has questions surrounding his game, as he is not convincing as a safety or outside linebacker. However, if Reavis is asked to focus on one position at Virginia Tech, he should produce at an increased rate.
Reavis, who is 6'2" and 200 pounds, flashes some ability to cover tight ends in man coverage. He excels as a run-defender who instinctively fills gaps with excellent short-area quickness.
Bud Foster needs to make a quick a decision when Reavis arrives on campus: either leave him at strong safety or permanently move him to outside linebacker.
Enoch Smith, DT
Defensive tackles who are not flashy seem to get downgraded, but what really matters is production. Production doesn't always mean a player needs to have great numbers, rather he needs to be doing his job.
Enoch Smith is not flashy, but he is a 6'2", 270-pound defensive tackle who does his job. Smith's best asset is his excellent strength, as he has good snap quickness and plays big at the point of attack. He can anchor versus double-teams, eat up blocks and make a mess in the middle versus the run.
Smith is not going to be an elite pass-rusher, but he does flash solid hand usage and the ability to bull-rush opponents to get to the passer. He is an underrated player—No. 361 in the 247Sports composite rankings—who should be a solid starter at Michigan State.
Kyron Watson, LB
247Sports

Kyron Watson being ranked No. 336 in the 247Sports composite rankings is almost a crime. He is a far superior player than his ranking, and Charlie Weis will let Watson showcase his talent at Kansas.
Watson, who is 6'1" and 225 pounds, is a tough linebacker who can play inside or outside. He has the strength to challenge blockers and to quickly explode on runners. Watson also displays terrific speed, as he has the range to track runners to the edges and meet them with force.
Not to be limited as solely a run-defender, Watson can also factor versus the pass. His speed allows him to carry tight ends and running backs all over the field in man coverage, and he has the field vision to work well in zone coverage.
Koa Farmer, S
Koa Farmer is the type of safety that defensive coordinators love because he is interchangeable. Farmer can play on top of the defense, roam around and be responsible for keeping plays in front of him.
However, the 6'1", 200-pounder can also be asked to squeeze the line of scrimmage as an enforcer in the box. Farmer flashes good ball skills, solid speed and big-hitting ability. He is ranked No. 504 in the 247Sports composite rankings and will prove at Cal that his ranking is too low.
Elisha Shaw, DL
Although Elisha Shaw is ranked No. 72 in the 247Sports composite rankings, he is still underrated. Shaw is an amazing talent who may be ready to play in the trenches in college as a true freshman.
The 6'4.5", 295-pounder has outstanding strength in his shoulders and arms. He is explosive with his power, as he can shock an offensive lineman at the point of attack. Shaw can press blocks off of him, separate and gobble up runners in short-areas.
He can push the pocket as a pass-rusher, and can rush on the outside or over guards. Shaw is a classic SEC defensive lineman prospect.
Matthew Adams, OLB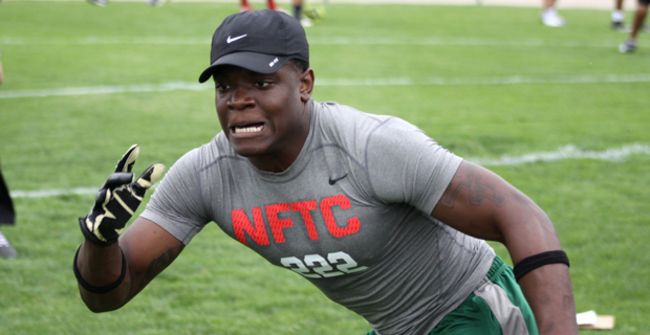 247Sports

Matthew Adams gets little respect from recruiting analysts. He won the linebacker MVP at the Dallas Nike Football Training Camp, said Scout.com, but he is still ranked No. 1,226 in the 247Sports composite rankings.
Adams, who is 6'0" and 201 pounds, may be the most underrated player in the country, as he can run like a cheetah at the outside linebacker position. He has fantastic range, and can truly make plays sideline-to-sideline.
Adams' speed and athleticism also are assets versus the pass, as it is tough for a running back to separate from him at junction points and tight ends will not outrun him.
Houston is getting a steal in Adams.
Conor Sheehy, DL
Conor Sheehy is going to be one of Gary Andersen's favorite players at Wisconsin. The Badgers' new head coach is a defensive line tutor at heart, and Sheehy's overachieving mentality will be admired by Andersen.
Sheehy is a 6'4", 260-pound defensive end who will grow into a defensive tackle. However, he could play defensive end at Wisconsin, as Sheehy has the strength to play the 5-technique position. Sheehy displays solid quickness at the snap, can play big at the point of attack and can anchor versus running plays.
He has a great motor, hustles and will be a fan favorite. Sheehy deserves to be higher than No. 318 in the 247Sports composite rankings.
Byron Bullough, S/OLB
Hybrid defenders are seeing their stock rise with more teams running the Spread offense. That is why it is puzzling that Byron Bullough is ranked No. 400 in the 247Sports composite rankings.
Bullough, who is 6'1" and 190 pounds, has the potential to play strong safety, outside linebacker, bandit and rover for the Michigan State defense. He can hold his own in the seams, as Bullough has solid speed and gets a jump on balls due to his instincts.
He has no issues rolling into the box, reading run plays and filling gaps to make tackles for short gains. Mark Dantonio will love Bullough, as he is a tough player, doesn't shy away from contact and plays hard.
Shaun Hamilton, ILB
Alabama is getting an outstanding fit for its inside linebacker position in Shaun Hamilton. He exhibits all of the traits a player needs to be successful at that position.
Hamilton, who is 6'0" and 240 pounds, has a thick build and can pack a punch at the point of attack. Hamilton is not afraid to take on offensive linemen, pop them in the mouth, shed and make a thumping tackle.
He is faster than given credit for, but Hamilton's short-area quickness may be his best asset. He can explode to runners with an exceptional burst, and has solid athleticism to play on third downs.
He is ranked No. 187 in the 247Sports composite rankings, but Hamilton deserves to be considered among the best 100 players in the country.
Edwin Weathersby is the College Football Recruiting Analyst for Bleacher Report. He has worked in scouting/player personnel departments for three professional football teams, including the New York Giants and Cleveland Browns.
Keep Reading