Big Ten Media Days 2013: Winners and Losers from Day 1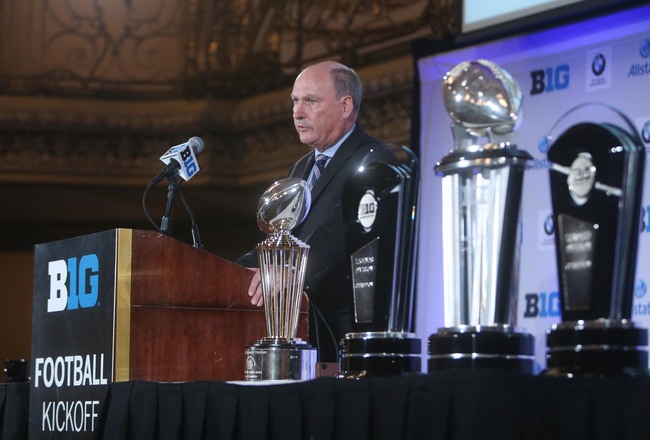 Jerry Lai-USA TODAY Sports
Day 1 of Big Ten Media Days is in the books, and the Chicago Hilton ballroom heard from each of the coaches on Wednesday. Conference commissioner Jim Delany also spoke, closing out a day that featured Urban Meyer, Urban Meyer, Urban Meyer and more Urban Meyer.
Oh, and others had plenty to say as well as some of college football's most notable issues were brought to the forefront. But yes, Meyer, as expected, stole the spotlight.
Winner: Pat Fitzgerald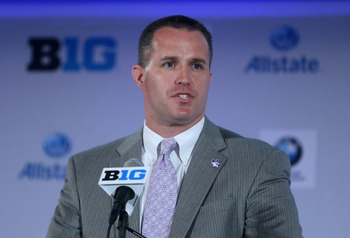 Jerry Lai-USA TODAY Sports
Northwestern's Pat Fitzgerald always makes public speaking look far too easy, and that's because, for him, it is. This podium dominance was again on display during media days, as the Wildcats' coach was tasked with kicking off the two-day event.
Given recent storylines in football, it didn't take long for the first off-the-field discipline question to surfacel, and Fitzgerald provided unique insight on a question that would normally receive a vanilla "We teach our players to do the right things" answer.
"Discipline begins in recruiting," Fitzgerald noted when asked about player conduct. The response, while somewhat simple, also hit on something coaches have yet to touch on.
While coaches often take responsibility for players, rarely do they acknowledge that the process works both ways, and it begins in living rooms on the recruiting road.
It should be also noted that Fitzgerald is also the recipient of the "Best Dressed" awards—a very important honor.
Loser: Purdue's Media Guide Cover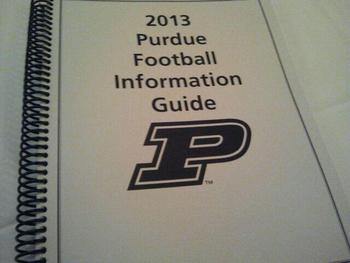 Image Via Adam Kramer
Oh, Purdue.
This is the cover of the Purdue media guide handed out at B1G Media Days—an attempt to mimic the book report you completed in high school. If such attempts were the influence of this 2013 concoction, it's clear the Boilermakers nailed it. Either that, or this is a tremendous ode to an engineering school.
Covers for such materials mean little in the grand scheme, no question. It doesn't have to be extravagant, but compared to the glossy goodness stretched along the tables at the entrance, it had the look and feel of the assembly guide that comes with the bookshelf you just purchased.
Let's hope the actual football play provides, well, more.
Winner: Bo Pelini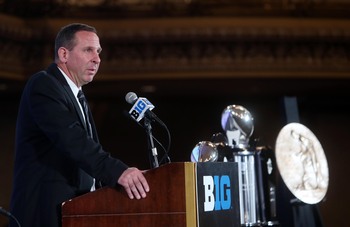 Jerry Lai-USA TODAY Sports
The new targeting rule—where players will be automatically ejected for potentially dangerous, high tackles—has been a popular discussion at all conference media days over the past few weeks.
In Chicago, most coaches chose to toe the company line, avoiding strong stances on the issue altogether. Apparently, Nebraska's Bo Pelini didn't receive the memo.
While Pelini stressed the importance of player safety, he also opened up on the new legislation. He wasn't as open as Washington State's Mike Leach, a walking soundbite, but his thoughts were clear.
"I understand it's about player safety, but we have to make sure we're not messing up integrity of game and how it's played," said Pelini. "It's going to be pretty subjective…In my opinion it's going a little overboard."
He's absolutely correct, and he's one of the few to actually point out the potential problems ahead. While the intentions of the rule are fabulous, and it's difficult to argue against any effort to improve player safety, the aftermath of such ejections could cause chaos.
Other coaches could soon express their concerns once the rule is officially put in place next month.
Loser: New B1G Coaches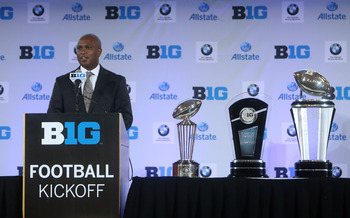 Jerry Lai-USA TODAY Sports
By no means did Wisconsin head coach Gary Andersen and Purdue's Darrell Hazell bomb during their first Big Ten podium sessions, but excitement was absent from their debuts.
Hey, quiet isn't necessarily bad, just ask some of the other coaches answering questions they'd rather pass on.
When the Q&A portion for each new coach opened up, however, media members struggled to come up with anything to ask the two B1G newbies. This made for awkwardness, as an entire room of media members stared blankly forward, and the new coaches stared blankly back.
Part of this can be blamed on the rapid-fire format, although it was quite clear neither coach was poised to make a scene in his first Chicago trip. Again, this isn't necessarily a bad thing.
While this has absolutely no influence on what matters most—on-field results, wins and early success to build a foundation around—their media debuts came and went without much buzz at all.
Winner: Urban Meyer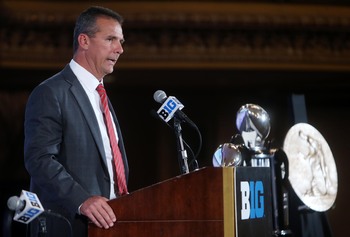 Jerry Lai-USA TODAY Sports
As anticipated, the spotlight was brightest on Ohio State coach Urban Meyer. With all eyes on him and the media ready to pounce, however, Meyer made a strong showing. His stance on discipline was unquestionably the highlight, and his message was loud and clear.
"I want to make sure our discipline is as hard or harder than anything out there," Meyer said when asked about his mentality going forward.
He also went on to discuss the recent string of arrests and his mindset after running back Carlos Hyde, cornerback Bradley Roby and two freshmen ran into separate off-field issues in the past week.
"I'm disappointed," Meyer said. "I think 'furious' might be the word to best describe it."
His face showed it, too.
The status of both Hyde and Roby remains a mystery, but Meyer was exceptional given the circumstances. Unfortunately, only one football-related question was asked during his time on center stage, and there's plenty to discuss on that front.
Let's hope it will be the main topic of conversation going forward.
Loser: Jim Delany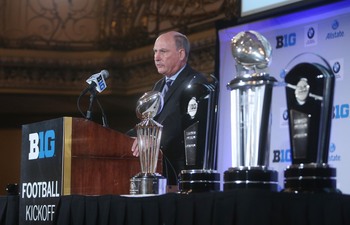 Jerry Lai-USA TODAY Sports
The Big Ten commissioner was last to speak, although the best wasn't necessarily saved for last. In fact, the whole thing was just rather strange, really.
Delany spent 23 long minutes on his opening statement, waiting until later in his delivery to touch on college football's most pressing issues. At one point during the questioning portion, a media member asked...well, said, the following.
"Jim, I'm so confused I don't know where to start."
The room got a laugh, and he was not alone in his confusion.
While Delany did eventually hit on player stipends, the Ed O'Bannon suit, the possibility of a new division (Division 4) for the NCAA, it wasn't the smoothest path getting to the opinions many were waiting to hear. In fact, it felt like a college lecture all over again.
Unlike other conference commissioners, Delany did not call for the head of Mark Emmert, choosing instead to defend the NCAA president.
"There's been a lot said about Mark Emmert," Delany noted. "My view is Mark has done some good things, and Mark has made some mistakes. Let me tell you this: Running the NCAA is real challenging."
He's right, and he's wrong. Running the NCAA is a job no one envies, but it's become quite clear that the leadership in place isn't up for the challenge.
*Adam Kramer is the lead college football writer for Bleacher Report. Unless otherwise noted, all quotes were obtained firsthand.
Keep Reading