LSU Football: 5 Toughest QBs Tigers Will Battle in 2013
Mike Stobe/Getty Images
The SEC is, and always has been, and probably always will be, a defensive conference. That's its character and it's calling card, a tradition it's carried on for decades.
But the sport of college football is changing, and with that change comes a decreased emphasis on traditional schematics. Games are played faster and in more open space, the scores are higher than they ever used to be. Now any time you hold a team under 28 points, for the most part, it has to be considered a mild success.
One upshot of that shift is the increased importance of quarterbacks. A good one can make a wanting team whole, and a bad one can cripple even the strongest supporting cast. More so than ever in the past, it is the keystone position that defines a program's success.
And in 2013, LSU might face more good ones than any team in the country.
5. Bo Wallace, Ole Miss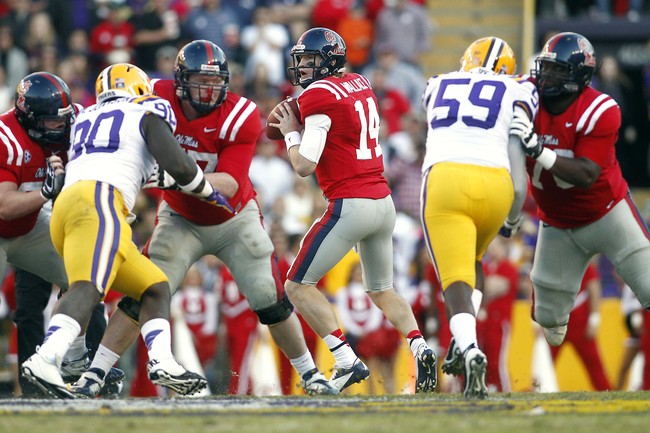 Crystal Logiudice-USA TODAY Sports
Wallace had a solid season for the Rebels last year, finishing fifth in the SEC in passing yards (2,994), completions (235), completion percentage (63.9) and total touchdowns (30). That was as a first-year-starting sophomore, too, so he should get even better in 2013.
That improvement begins and ends with turnovers. Wallace led the NCAA with 17 interceptions last year, including three in a down-to-the-wire loss at LSU. The Tigers rattled him in that game, but thanks to a number of big plays, Wallace still finished with 364 total yards and four touchdowns.
This year LSU travels to Oxford, where Wallace's passing efficiency was 36 points higher (and his interception rate 50 percent better) last season. That could be trouble for the Tigers young defense.
4. Casey Pachall, TCU
Sarah Glenn/Getty Images
Pachall had the unenviable task of replacing Andy Dalton two years ago, and the results were better than anyone could have expected. TCU, it seemed, had found itself another QB of the future.
But substance abuse issues forced him off the field in 2012, and the Horned Frogs offense struggled accordingly.
Now he's back, and by all indications, his head is in the right place. The starting job won't be handed to him, but if and when he's won it, LSU can't take Pachall lightly: He's a talented, aggressive, gun-slinging quarterback who finished top-10 in the NCAA in adjusted yards per pass two years ago.
3. AJ McCarron, Alabama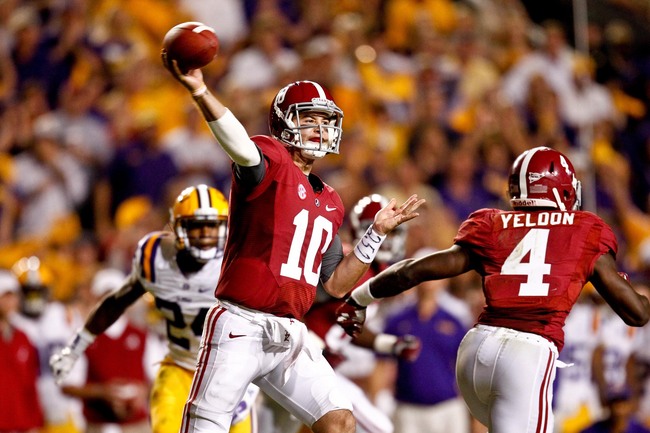 Derick E. Hingle-USA TODAY Sports
Putting McCarron third is not meant as an affront; there are simply too many Heisman candidates on LSU's schedule.
McCarron could have easily been No. 1 on this list, and probably has the most impressive resume of any player in college football. Even outside of the two BCS National Championships, he has accomplished personal feats like leading FBS in passing efficiency last year.
He's 2-1 in starts against LSU—including one rather noteworthy win—but the Tigers have held him in relative check as a passer. McCarron has averaged just 199 yards in those starts, and has only thrown for one touchdown.
Alabama's passing game, though, is supposed to be even more dangerous than normal this coming season. The Tigers will have to play well (or cede a large deficit early) to keep him under 200 yards again.
2. Aaron Murray, Georgia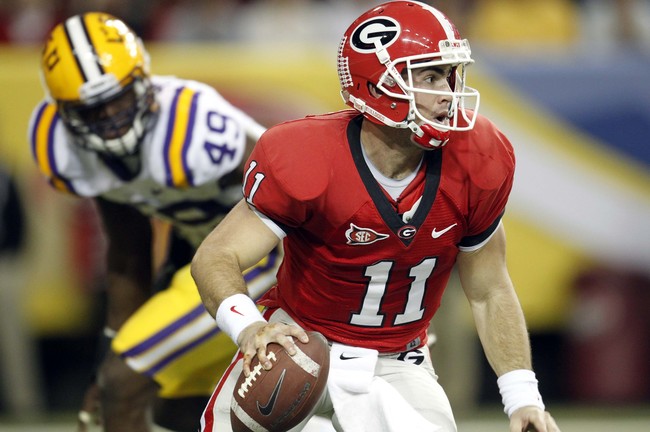 Derick E. Hingle-USA TODAY Sports
Murray, unlike McCarron, has only played LSU once and was far from successful. The Tigers drilled Georgia 42-10 in the 2011 SEC Championship Game, forcing Murray into just 16-for-40 passing for 163 yards, one touchdown and two interceptions.
But in the year-and-a-half since that game, Murray (who was no slouch at the time) has improved by leaps and bounds. He led the SEC in passing yards and passing touchdowns last season, and with an even stronger group of receivers in 2013, it's not inconceivable to think he'll improve on those numbers.
LSU's front seven has suffered massive attrition and will only have four games under its belt before going up against Murray. If they can't pressure him into mistakes like the 2011 Tigers, especially at Sanford Stadium (where Murray has been markedly better in his career), Georgia could put a big, round number up against LSU.
1. Johnny Manziel, Texas A&M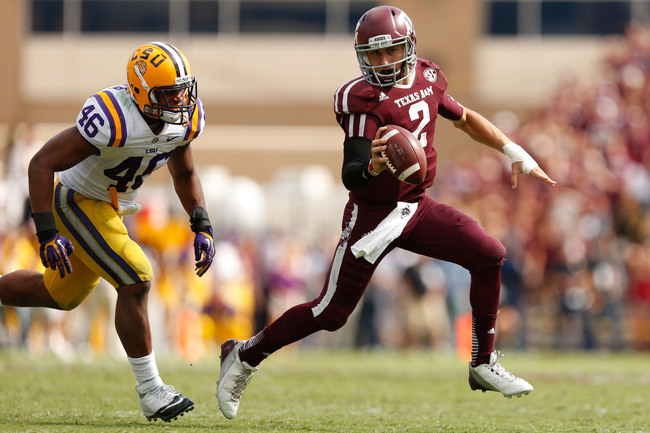 Thomas Campbell-USA TODAY Sports
LSU did the best job of anyone on Johnny Manziel last season, and they did so by a considerable margin. His 27 rushing yards were 33 less than his second-worst game on the ground (despite 17 carries), and his 82.5 efficiency rating was 41.9 points worse than his second-worst game in the air.
It's hard to tell, though, if that was more Les Miles' scheme shutting down Johnny Football, or more Johnny Football playing poorly against Les Miles' scheme. Manziel didn't remind us often, but he was, after all, a freshman last year. He should be entitled to one poor game out of 13.
Most likely, it was some combination of both—LSU's defense played one of its best games while Manziel played one of his worst. This year the Tigers get him in late November, which is when he peaked in form and clinched his Heisman last season.
If they manage to shut him down again, it will be hard for Manziel supporters to plead "fluke."
Keep Reading

LSU Football: Like this team?