2014 College Football Recruits Who Will Dominate Big Ten Trenches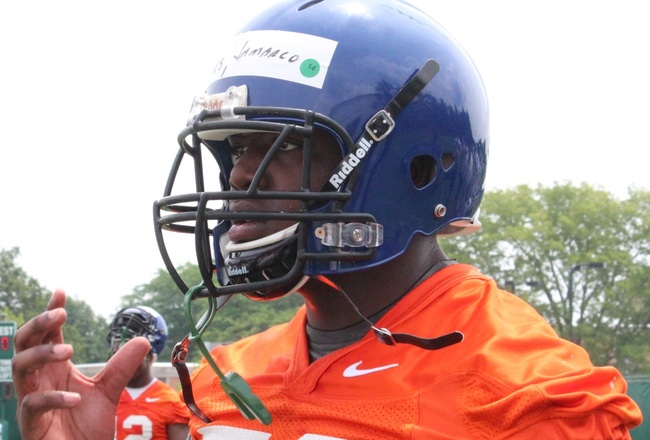 247Sports

The Big Ten is a league known for its toughness, size and ability to produce good trench players. To offensively dominate the B1G, a program needs to have excellent play and execution by its offensive line. Defensively, the linemen must control the line of scrimmage.
Although many programs have increased their efforts to sign faster, skilled players, the foundation of each Big Ten program's recruiting remains signing quality offensive and defensive linemen. Every program wants depth in its trenches, but to dominate up front requires signing great prospects.
Iowa coach Kirk Ferentz may have his next star offensive lineman, while Brady Hoke continues to stock his program with excellent trench players. Wisconsin may be under new management, but it knows not to fix something that is not broken. Also, Urban Meyer may be collecting SEC speed, but he clearly understands winning the trench battles in the Big Ten are key to a team's success.
Player evaluations are based on review of tape at Scout.com, Rivals, 247Sports & ESPNU.

Enoch Smith, DT
Enoch Smith, who is committed to Michigan State, is a future starting interior defensive lineman in the B1G. He has the potential to be an anchor in the middle for Mark Dantonio.
Smith, who is 6'2" and 270 pounds, has solid snap quickness and lateral agility. His best asset is his strength, as Smith can play like a giant at the point of attack. He flashes the ability to stack and press blocks, reads run plays quickly and can toss powerful linemen aside to shed.
Smith may never lead the Big Ten in sacks, but he can press the pocket as a pass-rusher. He will need to refine his hands, but Michigan State has a potential cornerstone player in Smith.
Connor Sheehy, DL
Gary Andersen is a defensive line coach at heart, so he will have no issues evaluating and signing good trench talent. He will not make wholesale changes to the style of play in Madison, so look for Wisconsin to not look much different than it did under Barry Alvarez and Bret Bielema.
Connor Sheehy, who can play end or tackle, is a great fit for Andersen's defense. The Badgers will employ more 3-4 looks and having versatile defensive trench men who can play effectively in both alignments will be key.
Sheehy, who is 6'4" and 260 pounds, has good initial quickness and a high motor. He has great upper body strength and can use his hands well. Sheehy can play over tight ends and set the edge and maintain leverage at the point of attack. He displays anchor strength and is a tough customer.
He has an adequate burst to close on the ball and could develop into a full time five-technique/defensive tackle before he leaves Wisconsin.
Marcelys Jones, OL
Glenville High School in Cleveland is a clear pipeline for Ohio State. Marcelys Jones is the next great prospect from the school and will continue the Tarblooders' tradition of becoming a Buckeye.
Urban Meyer will have Ohio State's strength coaches re-construct Jones' body, but he figures to become a fixture in the interior offensive front. Jones, who is 6'5" and 325 pounds, can play center or guard and uses his great power to dominate the trenches.
He has good snap quickness, does not shy away from contact and flashes quick feet to execute his assignments. Jones is at his best when he is in a phone booth fighting a defensive lineman. He hates to give up an inch off his spot and has heavy hands to punch targets.
Once Jones' conditioning improves and he gets seasoned up, he could be an All-B1G selection.
Lawrence Marshall, DE
Michigan has a need for pass-rushers, and Lawrence Marshall will help. He is a defensive end prospect with solid snap quickness and has deceptive strength.
Marshall, who is 6'3" and 225 pounds, can play on the weak side of the defensive trenches. He will not impress many observers with raw power, but is strong enough to hold his own versus the run.
Marshall can pin his ears back, attack half a man on the edges and chase down plays from the back side. He can close quickly on his targets and if a pass-protector chooses to deep-set versus him, Marshall flashes the ability to convert speed to power when attacking the passer.
He is not going dominate the interior defensive front nor be able to effectively rush versus guards, but Marshall is a player who can help a defensive line.
Craig Evans, DT
Wisconsin, which will show more 3-4 looks under Gary Andersen, is looking for nose tackle prospects. Craig Evans just so happens to be an in-state prospect who is willing to fill the Badgers' need.
Evans, who is 6'3" and 305 pounds, is a potential rock-solid nose tackle. He can cause problems when lined up over blockers and has the size and strength to be left responsible for two gaps. Evans is a natural space eater, can lean on interior blockers and has the anchor strength to make a mess versus run plays.
Evans is not a quick-twitch athlete nor will he be a great interior pass-rusher, yet he can make his presence known on the first two downs of a series. He is one of the most intriguing Big Ten commitments and a player on a great career track.
Kyle Trout, OL
Ohio State will keep searching for quality offensive linemen during the Urban Meyer era. As the program continues its transition to a spread-option offense, signing multiple offensive linemen still will be a priority.
Kyle Trout, who is 6'6" and 300 pounds, is the kind of quality Meyer is looking for in the trenches. Trout plays with a nasty demeanor, has great toughness and uses his size to intimidate opponents.
He can be a load at the point of attack, yet shows adequate foot quickness to play offensive tackle. Trout is a good run-blocker who can dig targets out of run alleys, clears holes and is a solid athlete. He has good field vision to recognize stunts as a pass-protector and could be a great right tackle for the Buckeyes.
Jaden Gault, OT
Wisconsin is known for its offensive linemen, as players such as Joe Thomas and Travis Frederick has dominated the trenches in Madison.
Jaden Gault, who is 6'7" and 285 pounds, will follow the Badgers' tradition of great offensive line prospects. He is a good athlete for his size and has the movement skills to potentially be a left tackle. Gault has solid knee-bend, can set up quickly short or deep and flashes mirror and adjust ability.
He has heavy hands and good strength, which allow him to punch a target with shock. Gault moves well when engaged and can be a powerful run blocker. Do not be surprised if he is a multi-year starter for Gary Andersen at left tackle.
Mason Cole, OG
Brady Hoke has emphasized signing good offensive linemen the past two recruiting classes. Hoke understands that future starting quarterback Shane Morris has great talent, so protecting him will be critical.
Mason Cole, who is 6'4" and 285 pounds, will arrive in Ann Arbor with the intention of keeping Morris clean and safe in the pocket. Cole, who is from Florida, is a guard prospect who excels with quickness.
He fires out of his stance, refuses to let defensive linemen jump on top of him and wins battles by out-working and out-positioning his targets. Cole has easy movement to pull and trap as a run-blocker. He is great on the second level and has no issues with hitting moving defenders.
Cole may not be dominant with power, but his ability to menace a front-seven with quickness will be an asset for Big Blue's ability to control the line of scrimmage.
Jalyn Holmes, DE
Jalyn Holmes, who can play tight end, is a weak-side defensive end commitment for Ohio State. Holmes is a talented player whose athleticism will get him on the field somewhere.
That somewhere could indeed be in the trenches, as the 6'5", 225-pounder is dangerous on the edges. Holmes shows good snap quickness, can bend and pursues the ball with speed. He also has the ability to stand up and play in a two-point stance.
Holmes does not back down from massive opponents and also can buzz into coverage as an underneath zone defender. Urban Meyer will become increasingly enamored with Holmes as his Buckeye career moves forward.
Jamarco Jones, OT
Jamarco Jones, who could be the top player in Illinois, is an offensive line prospect who can play tackle or guard. It will be interesting to see where Ohio State has him play on the offensive front.
Jones, who is 6'5" and 290 pounds, relishes contact and is a physical player. He is tough at the point of attack, plays with strength and has the ability to powerful drive his target into the ground.
Jones, who is from Chicago, flashes good balance and quick feet, which allow him to effectively operate as a pass blocker. He could initially get a look as a tackle, perhaps on the left side, but a move inside is possible.
Bryan Mone, DT
Michigan, which has Ondre Pipkins in its defensive trenches, would love to have an additional big and explosive interior defensive lineman. It has a commitment from Bryan Mone, who could be a poor man's Haloti Ngata if he reaches his full potential.
Mone, who is 6'4" and 338 pounds, must become more consistent with his snap quickness. However, once he does, he could be a beast in the trenches due to his excellent size and strength.
Mone is a load in the interior front and is an intimidating presence. He does not get moved off his spot, plays to his size at the point of attack and can anchor versus the run. He is active with his hands and can be forceful at punching blockers with his mitts.
Mone, who is from Utah, flashes deceptive gap-penetrating ability and has a good burst to close on the ball. Should he fire off the ball at a more frequent rate, the sky is the limit for Mone.
Ross Pierschbacher, OL
Kirk Ferentz is regarded as one of the best offensive line coaches in football. He was on Bill Belichick's staff with the Cleveland Browns and Iowa's head coach is a respected blocking guru by his peers.
Iowa has had good offensive line play in the past, and Ross Pierschbacher is viewed as the Hawkeyes' next great trench man. Pierschbacher, who is 6'5" and 285 pounds, is a blocker who excels with good quickness, toughness and movement skills.
He is a player who can surge out of stance and quickly get in good positioning to execute blocks. Pierschbacher can play on the strong or quick side of the offensive line and is a blocker who can perform pulls, traps, reaches, seals, scoops/combos and kick-out blocks.
If he stays committed to Iowa, Pierschbacher will make an early impact and could see time at each position on the offensive line before he leaves the Hawkeyes' program.
Edwin Weathersby is the College Football Recruiting Analyst for Bleacher Report. He has worked in scouting/player personnel departments for three professional football teams, including the New York Giants and Cleveland Browns.
Keep Reading