Ranking the 10 Best NCAA Basketball Freshman Seasons in the Past Decade
Jonathan Ferrey/Getty Images
The introduction of the NBA's one-and-done rule has made freshmen matter in NCAA basketball like never before. A healthy share of the best freshman seasons in Division I history have come in the past 10 years, largely as a result of players stopping off in school who would otherwise have jumped straight to the pros.
Kevin Durant, for example, warmed up for his string of NBA scoring titles by filling up stat sheets at Texas for a season. The future Thunder star not only had a great freshman year in his own right, but he turned a Longhorns team that had lost its top five scorers into a 25-game winner.
Herein, a closer look at the greatest individual season in Texas history and nine more of the top first-year phenoms from the last 10 seasons of NCAA hoops.
10. O.J. Mayo, USC (2007-08)
Victor Decolongon/Getty Images
Technically, O.J. Mayo's freshman season at USC doesn't exist, as the program vacated the year's wins due to Mayo's benefits violations.
In reality, of course, Mayo not only played those games but turned in one of the most impressive single-season performances in school history.
The high-flying guard averaged 20.7 points per game, the eighth-best figure for a Trojan all time, but his contributions didn't stop with his scoring.
Mayo also averaged 4.5 rebounds and 3.3 assists per contest in leading USC to 21 wins and its second of three straight NCAA tournament bids.
9. Michael Kidd-Gilchrist, Kentucky (2011-12)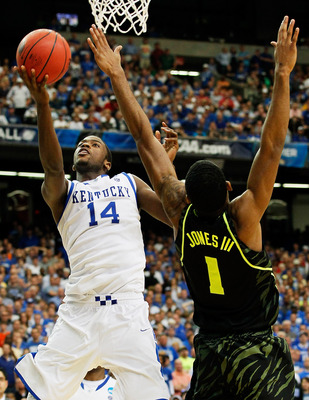 Kevin C. Cox/Getty Images
The 2011-12 Wildcats were Anthony Davis' team, no doubt, but Davis didn't win a record 38 games by himself. Of the remaining five players in John Calipari's rotation that season, none played a bigger role than another first-year star Michael Kidd-Gilchrist.
The 6'7" Kidd-Gilchrist did for Kentucky's perimeter defense what Davis did for the interior, locking down any and all opponents (and setting himself up to get chosen No. 2 behind his acclaimed teammate in the NBA draft).
UK's balanced offense limited MKG's scoring numbers (11.9 points per game), but he did rack up 7.4 boards a night as a small forward in his one year in Lexington.
8. Tyreke Evans, Memphis (2008-09)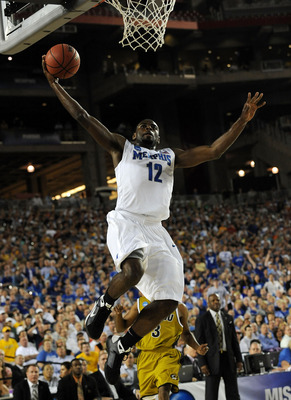 Ronald Martinez/Getty Images
Arriving in Memphis on the heels of the Tigers' near miss in the national title game, Tyreke Evans had a lot to live up to. He couldn't quite replace the entire starting backcourt by himself, but he gave it an awfully good try.
Evans averaged 17.1 points, 5.4 rebounds and 3.9 assists a game as Memphis' de facto point guard, carrying the supporting cast from 2008's Final Four squad to another 33 wins.
Evans' success didn't stop with a strong regular season, either, as the Tigers made it back to the Sweet 16 before falling to Missouri.
7. Kevin Love, UCLA (2007-08)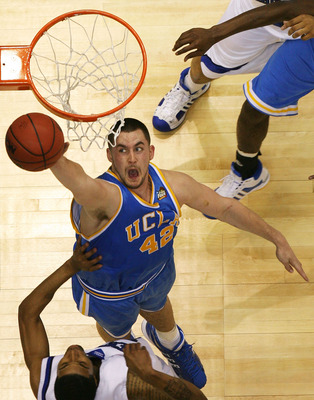 Streeter Lecka/Getty Images
Just because a player comes into the college ranks with exorbitant hype doesn't mean he isn't also awfully good in reality.
Kevin Love (son of a former NBA journeyman) was one of Ben Howland's most talked-about recruits at UCLA, but he backed up the preseason buzz with a monster on-court performance.
Love earned himself a spot at No. 5 in the NBA draft by averaging a double-double (17.5 points and 10.6 rebounds a night) as a true freshman.
Not only that, but Love put up his impressive numbers as an integral member of a Final Four team, albeit one loaded with other future NBA standouts.
6. John Wall, Kentucky (2009-10)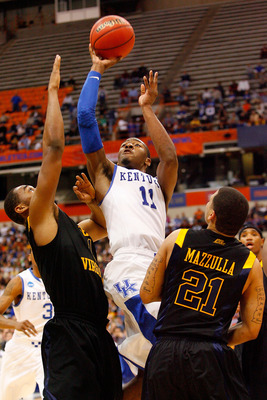 Chris Chambers/Getty Images
Unlike many elite freshmen under John Calipari, John Wall fell short of the Final Four.
Like his fellow Coach Cal recruits, though, Wall put up eye-popping numbers and established his NBA bona fides in a big way, even if his team did get stopped in the Elite Eight.
In his lone season as Kentucky's point guard, Wall averaged 16.6 points, 6.5 assists (third-best in the country) and 1.8 steals a night.
It's a nice indication of how dominant he was compared to other college PGs that he even grabbed 4.3 rebounds per game while sharing the ball with NBA-bound centers DeMarcus Cousins and Patrick Patterson.
5. Greg Oden, Ohio State (2006-07)
Win McNamee/Getty Images
The "Thad Five" recruiting class that earned Thad Matta so much well-deserved praise wouldn't have been on the map if not for Greg Oden.
The 7'0" center overcame an early-season hand injury to become one of the most overpowering inside forces of the past decade at the college level.
Oden's 15.7 points, 9.6 rebounds and (especially) 3.3 blocks per game anchored a Final Four run for Ohio State.
Had the Buckeyes faced anyone other than loaded Florida—a defending national champion with five starters returning—in the title game, there's an excellent chance Oden could've brought the national championship back to Columbus.
4. Derrick Rose, Memphis (2007-08)
Jed Jacobsohn/Getty Images
When it comes to individual numbers, Derrick Rose's freshman campaign—another vacated season for this list, thanks to academic violations—pales before those of other elite freshmen.
Although Rose's 14.9 points and 4.7 assists a night don't look all that spectacular, he came within a few unfriendly bounces of becoming the first freshman since Carmelo Anthony to play the starring role on a national championship team.
Rose's athleticism made him the focal point of a Memphis offense that racked up 38 wins en route to the national title game.
The freshman PG's leadership was an indispensable part of the Tigers' success, but his backbreaking missed free throws were just as inseparable a factor in the team's inability to close out Kansas, a failure that cost Memphis the championship.
3. Kevin Durant, Texas (2006-07)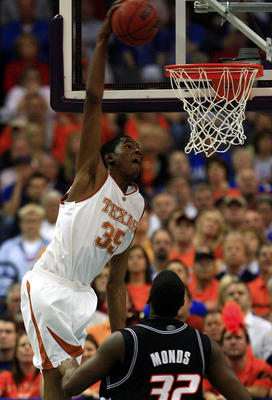 Jamie Squire/Getty Images
No freshman had ever won the Wooden or Naismith Awards until Kevin Durant swept both. He turned an exceedingly young Longhorns squad into a 25-win team, though Nick Young and USC spoiled his postseason run in the round of 32.
Individually, Durant was untouchable, finishing fourth in the country in scoring with 25.8 points per game and in rebounding with 11.1 boards a night.
He also played phenomenal defense, topping the Big 12 in blocks and finishing fourth in steals (1.9 of each per contest).
2. Michael Beasley, Kansas State (2007-08)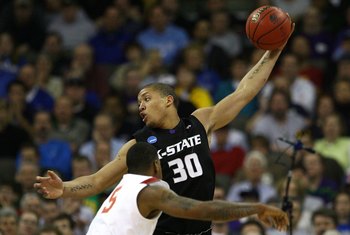 Jamie Squire/Getty Images
Arriving at Kansas State a year after Kevin Durant's scintillating season at Texas, Michael Beasley still managed to rewrite the Big 12 history books.
Among the lanky forward's then-conference records were averages of 26.2 points and 12.4 rebounds per game (with the latter figure leading the nation) and a total of 44 points in a single contest.
Beasley also shattered Carmelo Anthony's Division I freshman record with 28 double-doubles. The only thing he couldn't do was make K-State a contender by himself, as his Wildcats finished a pedestrian 21-12 and fell to Wisconsin in the round of 32 in March.
1. Anthony Davis, Kentucky (2011-12)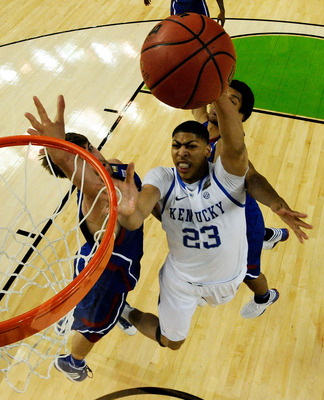 Pool/Getty Images
In all of college basketball history, one player has won both the Wooden Award and a national championship in his freshman season, and that player was Anthony Davis.
The defensive dynamo helped Kentucky set a Division I record for blocked shots as a team while setting a school record himself with 186 rejections (4.7 per game, tops nationally).
Davis made plenty of other contributions to UK's title run, posting team highs of 14.2 points, 10.4 rebounds and even 1.4 steals per game.
The 2011-12 Wildcats will go down as one of the most overpowering champions in college history, and the core of that performance was the freshman center who more than earned his spot at the top of the NBA draft.
Keep Reading