Bleacher Report delivers digital media's most engaging content experience to sports fans all over the world. As we build on a growing monthly audience of more than 16 million unique users,* you'll see us continue to combine vision with innovation in evolving a next-generation publishing brand.
B/R was founded in 2007 by four lifelong fans who'd consumed their fill of bland Internet sports content. After imagining a more enticing online experience, they set out to create…
An amplified outlet for writers whose unique voices were routinely drowned out by cookie-cutter analysts and celebrity "experts"
A localized network for readers whose favorite teams were routinely under-covered by national wire services and mainstream news corporations
A civilized community for commenters whose intelligent debates were routinely overrun by message-board blowhards and mean-spirited trolls
So it was that a few really good ideas gave birth to one really big sports media company. Although we've grown by multiple orders of magnitude since the early days, it's hard to find any part of the modern B/R experience that wasn't at least dreamed of in those first inspired brainstorming sessions.
Every start-up has a scheme for winning the hearts and minds of the masses. At Bleacher Report, we've outperformed our competitors by turning a starry-eyed plan into a superior product, with a team of programmers and content pros working together to develop…
A next-generation digital publishing platform that equips contributors with all the formatting options, multimedia tools, and training resources they need to captivate restless online audiences
A data-driven content creation process that merges inputs from elite writers, veteran editors, and expert market analysts to meet real-time consumer demand
A deftly-curated content distribution system that channels articles through prestigious partner sites, customized mobile apps, and the Web's most popular team- and topic-specific newsletters to reach readers whenever and however they want to be reached
B/R may have outgrown the "start-up" label, but we're still driven by the same test-and-learn culture that got us over the hump. Wherever we go from here, it's a sure bet that we'll always be in the business of engineering uniquely engaging experiences for creators and consumers of digital sports content.
Bleacher Report's core mission is to revolutionize the way sports fans learn, think, and talk about their favorite teams and topics. That's why we judge all of our innovation efforts by their impact on user satisfaction, with the ultimate goal of enhancing B/R's status as a brand the world counts on to provide…
An empowering opportunity for every contributor hoping to establish his or her voice in a vibrant community of knowledgable and passionate peers
An entertaining experience for every consumer hoping to indulge his or her appetite with a rich diet of team- and topic-specific content
An engaging environment for every user hoping to speak his or her mind on an exhaustive range of timely and provocative news items
An exceptional platform for every marketer hoping to position its brand message before the focused eyes of an engrossed and expansive audience
Today, B/R connects millions of fans to the teams and sports they care about. As we expand the scope of our next-generation publishing model, we'll continue to create value in every phase of the content cycle—and with a little luck, we may yet leave behind a blueprint for meaningful media success in the 21st century.
*Source: comScore, October 2013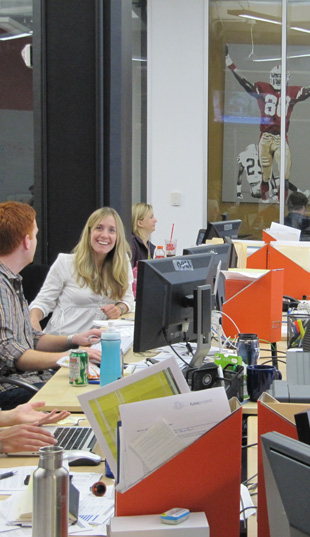 Want to follow your teams?
Addicted to your mobile device?